Cold "wind". Dull roar, clearly making conversation impossible. I looked then, and saw white mist rushing by interlaced with pale blue. From 120 mph to (potentially) two-hundred-miles-a-freakin'-hour. Wearing shorts and a t-shirt, the chill was shocking. Won't last long, I thought vaguely if incompletely...
Taps on both shoulders. "Lazy W" time... arms up in relaxed ninety-degree angles, feet up and together, head up.
No sense of plummeting, of being pulled down. With no visual referent except clouds, we might just as well have been shot out of a cannon. Awesome movement ruled, briefly, inexorably. Motion over mass. Then, more sky to be seen, miniscule plots of land and water, and clouds way too close. Eyes watering, more from the cold than the air (great goggles, even for those of us who wear contact lenses).
I inhaled - unsuccessfully. Tried it again. Well, when did I breathe last...? My lips were flapping. At this point I did feel another twinge of... concern. O-kay, can't breathe, must be the velocity, odd they didn't tell us about that but it'll pass when we pull the chute. Maybe if I tilted my head back, where it was supposed to be anyway, tsk tsk... Nada. Hmmmm.
So I closed my mouth, and found I could breathe through my nose just fine. (Later, my dad reported the same experience. Allan didn't tell, so we may never know if it's some hereditary brain-vaporlock disorder.)
Now I can concentrate again on the freefall. Racing through the noise and cold, still so high above real life that it lacked all relevance. You "old hands" and the stray physicist might be able to tell me how long this lasted. Fifteen seconds? Twenty? But it stretched out to me, as pivotal events have a way of doing...
Suddenly - though anticipated, and still riveting even so - there was Dino's fist in front of my face. Time to pull. Oh. As I was taught, I looked down. There it was, still, on my right hip. Yay. Curled the fingers of my right hand around it, and pulled. It came easily, just as the training video had assured us. And I held that sucker in a death grip. Figuratively speaking.
An expectation from the movies was dashed - there was no hard jerk, upwards. We slowed smoothly, and rapidly. To avoid my dad's regret from his first dive, I looked up and watched the parachute grow and spread. Ooooh. Red and white...? I definitely watched it, though I can't tell you now what colors I saw there.
If memory serves (hint) and our timing was right, we were somewhere around 4,000 feet up. Sailing over a field of green, with a big curve of ocean-blue to our left. Hanging there, gently -
Oh. Wow.
You guys... what have you done to me?
Dino had me take hold of one set of handles, by which we'd steer (which surely have a name...) (how 'bout "toggles".) I stood on his bare feet for a couple seconds while he loosened some straps a little for comfort. And if he bails? No prob, I'm holding the chute, he's got the secondary. Deals. (Well, of course he wouldn't.)
He told me to pull down hard on the left toggle, and we immediately started to circle that way, whipping round and round. Same thing with the right handle pulled, but in the opposite direction. Centrifugal force pushing our feet out behind us, and up. Bueno.
And we drifted. Stuff on the ground was still too tiny to be register as "real" trees and buildings. Warm again from the sun, able to talk... lazily sauntering over the airfield. Nothing, nothing, nothing like I'd imagined it would be.
And I was hooked. Feeling secure, up there. A profound sort of well-being, at 2,500 or 3,000 feet (lower, by this time) - it felt completely peaceful, not risky. What's another antonym of "dangerous"...? Compared to driving on the interstate, this was a cake walk. So much for preconcieved notions. I thought about God and angels, and heaven. Unavoidable, for me anyway. So that's what I did.
I could afford to bliss out - I wasn't driving. But Dino had this locked... We talked, and no doubt I babbled. (About what? Naaah, why spoil it for ya?) Some little neuroreceptors in my brain, somehow previously overlooked, had just found their reason for living.
I'm one of those compulsive types... obsess over stuff real easy. These guys shoulda warned me. Aw, man. Maybe one of those little authorization blanks I'd initialled...?
Maybe three, four minutes total, under the chute. I don't know. Our path through that near-atmosphere-place didn't intersect with any stress.
But our last circle had to come sometime, and after waving vigorously to Lisa's kid and Mom's camcorder, the last subadventure was looming. Dino reran the drill, and I listened and wondered just how jarring this landing business would be. Tuck-and-roll, maybe? Not my smoothest move - but he said I only had to lift my feet on his cue, and stand up when told to...
And here it almost pains me to tell Dino's most grievous oversight. In the interest of full disclosure (and in a thoroughly useless attempt to counterract all the wide-eyed fawning) the truth must be told. Even the eerily competent have their flaws... So, in ascending order, here's Gripe Number One: he's one of those unfairly studly foreigners who invade our shores and enthrall our women. Skydive Sebastian is fairly crawling with such types (as well as an appreciable number of women/womyn). Aussies, Germans, Italians, Afrikaaners - it was the most cosmpolitian place I'd seen since leaving California.
Gripe Two: This guy cut to the chase. Not a big blabbermouth. He seems unlikely to wrest the Mr. Congeniality crown from Irish Mark anytime soon (then again, realistically, who could). Unnerving, since so much of my career has required blathering on and on, slinging BS... So naturally the polar opposite just-do-it type offends my gasbag sensibilities.
But make no mistake - if I had to choose between chat and competence, the talkin' will lose out every time. Here's a case where I needed someone else's expertise way more than I even knew. And it was there.
Enough stalling. Gripe Number Three, the big one. Ready? Return with me, if you will, to a few yards above the landing zone. I lifted my feet on command - check - stood up when that cue was given - double-check...
And gently fell down. Knees, to chest, sorta in slo-mo.
"Jelly legs! Jelly legs!," another master crowed. Okay, maybe it wasn't a compliment. You don't stand up and just stay there, ya dork. You're supposed to stand up and keep moving.
Well, of course. Obviously. A three-year-old would know that. Land, stand, keep moving. Sure. Did he tell me to stand up and then keep walking, and had I already forgotten in my altered state - or did he wish not to embarrass me with such a blindingly obvious instruction? Consider the state of my endorphin-soaked brain, accustomed to simple and literal directives... Good thing he didn't tell me to cluck like a chicken.
Now I could be way off base, here, but I think my slavish obedience might also be known as trust. It's an odd little sensation, that.
As it turned out, my mom had thankfully stopped taping just before I made my majestic ventral touchdown. "Jelly legs," huh? Well, I could take that.
For I'd just had a... recreational epiphany. Went out there for a fun-scary daredevil kinda thang to brag about, and instead I was slammed upside the head by an exuberant change in scale. My obligations and job duties, the other roles I take on, all became very-teeny-tiny from Waaaay Up There. This skydiving wouldn't solve any big metaphysical dilemmas, but wow what a cosmically different perspective...
Gotta do this again.
All kinds of brand new complications - AFF jumps, and then student jumps. All that gear. Well of course they're pitchin' tents next to the parking lot... They can't very well bunk in the hangars, and where else would they stay? I got the first peek through their fraternal keyhole. It sorta resembled the day I first straddled a Harley of my own - so evident, it defied any attempt to explain it.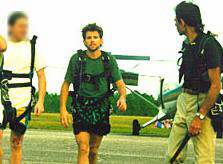 Or maybe it's just infatuation. New-found passion. Us obsessive types run like that.
Before the tandem harness was off, I was shuffling bills and budgets in my head. Huh. Not normal. This is not like me...
 
I snuck back the next day. Hangdog, away from the hangars. Just to watch.
And the day after that. If my flight out of Orlando hadn't been on the 12th, I suspect I would've been there on the 13th too...
Skydive Sebastian's home page says it's the "World's Most Scenic Drop Zone!!!" - and while I have no basis of comparison (yet), the midair view of the area did something to my, uh, heart.
 
So I'm digging for nickels... Level 1 ground school and jump. And meanwhile I'll be thinking of those maniacs in Florida, hard at it, prepping for the nationals. You, down there - do you know what you've done? Well, you will. This summer, if a ticket to Orlando can be had on the cheap. Certainly by November at the outside...
 
Caveat: If I seem to describe some horrible error in procedure or sequence here, the fault lies in my addled recollection. I'd bet on their proficiency - obviously enough - over my overtaxed memory, and if anyone would like to set me straight on any mistakes I'd welcome it... 'nuff said.)